Gift of Camp Options
Gift of Camp: This holiday season, register for a session of camp and receive a FREE Camp Hi-Ho tee shirt, bumper sticker and a fun purchase certificate so your child has something tangible to open for the holidays!  It's already wrapped and addressed, so all you have to do is stick it under the tree.  This is a no-brainer if you're planning on registering for 2020!  During the registration process you will see a checkbox to "give the gift of camp." Once you fill out that information, we will mail you your package for free.
Gift Certificate: This is a great gift idea if you want to help out with the cost of registration, but not pay the full tuition.  If you're unsure of the dates you'd like to register in 2020, this is a smart option because you can use the gift amount at any time.  We will mail or email you a gift certificate with a unique coupon code to use at checkout. Click here to go to our shop where you can purchase a gift card.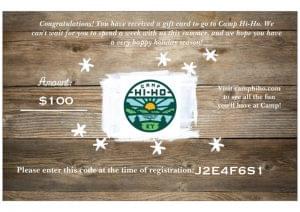 Camp Registration
Once you complete our enrollment process, you will be all set!  At the time of registration, we have different financial options that are available, like lunch, bus transportation, merchandise, etc. Please note that all financial options must be chosen at the time of enrollment in order for it to be added to your account.
Tuition for 2020 is $295/camper/week.  We do not offer sibling discounts at this time.  You can either pay your registration fee in full, or you can pay off your balance in monthly increments after your initial 50% deposit.  All balances will be collected by May 1, 2020.  After May 1, the only payment option is to pay in full.
We will email you the week prior to your camp week with important information about transportation and your camper's experience.  On the Thursday before your camp week your counselor will email you with specific information regarding your account, and to answer any questions you may have.
Refunds & Waitlist
In order to receive a refund for your camp week, we ask that you please notify us the week before your camp week (Friday at the latest).  That will give us time to go through our wait list and fill your spot.  We will refund you, less the non-refundable $50 registration fee, on the card that you paid with.  If the session you would like to sign up for is full and you register for the waitlist, we will contact you if a spot opens for your session.
The Online Account provides accessibility for registrants to update personal information, review registration details, print statements and make payments on existing balances.